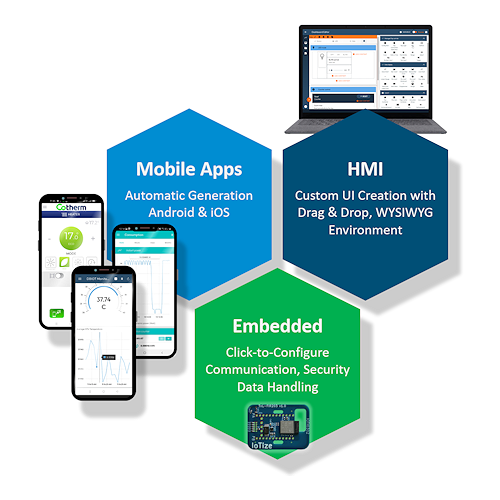 No-Code Approach Accelerates Your IoT Projects & ROI
Today, customers expect mobile and cloud connectivity in products. However, the complexity of creating these connected products stops many companies from capitalizing on this opportunity.
IoTize provides a complete solution that transforms long projects into a simple task that delivers immediate results. Our embedded Duetware in our wireless devices pre-implements all the features that are required in a connected device - communication, security, and data handling. Product designers simply select and setup those features in our free IoTize Studio configuration environment.
Designers then create human-machine interfaces rapidly and easily in a drag & drop, WYSIWYG environment called IoT App Creator. With it, they can make interfaces with elaborate, responsive displays and controls in just minutes. These user interfaces run equally on mobile devices or as cloud dashboards.
After testing their interface, designers can create mobile apps with just a click of a button using our automatic App Generator. They can either directly build the resulting project into a signed app, or they modify it to refine their interface even further before publishing.